POCKET PEDALS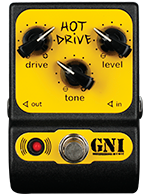 HOT DRIVE - PHD
The Hot Drive is a more aggressive overdrive capable of generating hotter tone than the Easy Drive, but not as heavy as the Power Distortion.

CONTROLS:

DRIVE:This adjusts the amount of gain ("drive") of the pedal.
The more "drive", the more distortion
TONE: Let's you adjust the amount of high frequencies in your tone.
LEVEL: Output level.
DEMO HOT DRIVE - by Ozielzinho
DEMO HOT DRIVE- by Ricky Furlani