PEDAL "SUPER"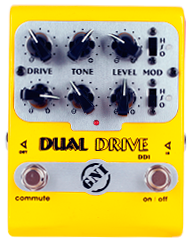 DUAL DRIVE - DD1
Dual Drive is the combination of two powerful and different overdrive pedals. Each of them has a 3 position switch marked "O-S-H", allowing you to choose: Overdrive, Super Overdrive, or Hyper Overdrive modes.
This way you have two different pedals, both with three different modes, and you can instantly switch between them pressing the "commute" button.
This means lots of resources and possibilities in a very creative unit.

Controls (for each channel): DRIVE, TONE, LEVEL, MOD (3-pos.)

DEMO DUAL DRIVE - By Pro Guitar Shop